Humanities Data Lab, uOttawa News
June 10: Join us for Lesbian Liberation Across Media screening
Rejoignez-nous le 10 juin à 20h30 EDT pour une soirée de films gratuits: trois films sur les activistes de la libération des lesbiennes. Join us June 10 at 8:30 EDT for a free screening of three films about Canadian Lesbian Liberation activists. bit.ly/LesbianLives
This screening is brought to you by the Labo de données en sciences humaines/The Humanities Data Lab, The Spoken Web, University of Toronto Media Commons Archives,  Lesbian and Gay Liberation in Canada Project and ArQuives, with especial thanks to Spoken Web -- this event is a collaboration on part II their Lesbian Liberation Across Media listening series. You do not have to have attended part I to enjoy this screening.
[We had 137 registrants and raised $460 to for SOY and the 519 to support Black queer youth and trans people of colour. Thank you everybody!]
June 1-5: CSDH/SCHN
Candice, Pascale, May and Célian will be at the Canadian Society for Digital Humanities / Société canadienne des humanités numériques conference online this week.

March 17: Lab Closed and Lab Opening Postponed
In response to the COVID-19 pandemic, the University of Ottawa will conduct research remotely. The lab will be closed until the university opens for in-person classes. We will look forward to celebrating the grand opening then.
March 12: Congratulations Constance!
Constance wins a 2019 Early Career Researcher of the Year Award. Well-deserved!
March 9: Welcome Huma and Célian
Huma Zafar joins the lab as a programmer analyst on the LINCS project. Célian Ringwald, from the MA program in DH at Lyon 2, joins the lab as a student researcher. Welcome!
April 17: Lab Opening - Save the Date
The lab will hold its grand opening on April 17th at 11:00 am as part of Arts in April celebration (in the meantime you can see our renovation progress on instagram). Save the date!
DH2020 is almost here
The international digital humanities conference will be held at the University of Ottawa and Carlton University this year. Hats off to May Ning for the conference branding and site design: https://dh2020.adho.org/
February 6: Digital Humanities Virtual Seminar 2020
Next week on February 13, we kick off the Digital Humanities Virtual Seminar 2020 with a virtual lecture from the University of Alberta's Geoffrey Rockwell. The rest of the lineup can be found on our events page.
December 17-January 15: Lab Closure
We'll be closed for a month over the break. See you in the new year.
December 6: Oxana Pilenko joins the Lab
Oxana Pilenko will be joining the LGLC team on archival research and TEI-XML encoding -- welcome Oxana!
November 17: Join the Lab Team as a Programmer Analyst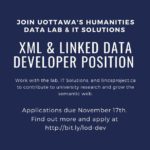 This position is made up of two parts, 2/3 working with the Humanities Data Lab (
http://humanitiesdata.ca/
) at the University of Ottawa, and 1/3 working on smaller projects as part of the university's IT Solutions team. 
In the context of the lab research, you will work on linked data creation with the national Linked Infrastructure for Networked Cultural Scholarship (LINCS 
https://lincsproject.ca/
) team, including librarians at the University of Ottawa and a universities across the country. LINCS, collectively, is creating a national linked data store. You'll develop TEI-XML-to-RDF research data conversion tools and interfaces that integrate with the team's existing API-backed entity look-up tools. We'll also welcome your contribution to semantic web ontology selection discussions and to smaller linked data projects in the lab.

A third of the position will be dedicated to smaller projects across the faculties at the University of Ottawa using .NET. Even though the position is housed full time in the lab, the you will also be integrated with the university's central IT Solutions team and broader information technology community on campus.
The position closes November 17th. Find out more in French and English and apply here.
September 18: Join the Lab Team as a Globalink Research Intern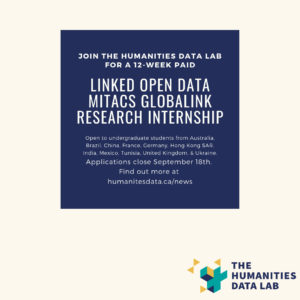 We have two Linked Open Data for Cultural History Mitacs Globalink positions. Find out more and apply here by September 18th to join us this summer. The paid internship is open to undergraduate students from from Australia, Brazil, China, France, Germany, Hong Kong SAR, India, Mexico, Tunisia, United Kingdom, & Ukraine.
We are interested in working with students who would like to conduct research into linked open data for representing real-world people and events. Specifically, the the internship will involve involve researching linked open data formats (e.g. RDF, JSON-LD), conducting linked open data experiments, and developing strategies and best practices for linked open data use in the Humanities. We are seeking students who are familiar with XML. Familiarity with graph databases and an interest in history would be excellent, but for those who are unfamiliar, there will be added training. Familiarity with JSON, XSLT, and TEI-XML would be very welcome, but is not mandatory. Do you have questions about this Mitacs program? Get answers here.
September 11: DH ToolBox - DH in the Classroom
Interested in bringing Digital Humanities methods into your classroom? Unsure how to get started? Join us for a roundtable in Perez 302 on Wednesday September 11th at 11:30 for a discussion on ways to integrate DH into your courses with Constance Crompton and Jada Watson from the University of Ottawa with special guest Shawn Graham from Carleton University.
September 1-15: Lab Closed
Bon rentrée! See you the week of the 15th
August 15: Congratulations Jana!
Jana Smith-Elford has joined Medicine Hat College as an English Instructor. Congratulations Jana!
August 12-17, 2019: Lab Closure
Renovations are getting underway. We will be moving to SMD 328 soon, and our end of the 3rd floor will be closed for renovations this week.
August 2-3, 2019: Lori Antranikian at the NanoHistory  gathering
Lori is representing the lab at NanoHistory project meeting in St. John's. The project is modeling historical facts (or rather ways of citing and stating 'what happened') to create historical data for both humans and machines to read.
August 1, 2019: Constance's Keynote at the DPI
Connie is giving a keynote, "The Way We Teach Now" at the Digital Pedagogy Institute conference at the University of Waterloo.
July 13, 2019: Tristan Lamonica in Rijeka
Tristan is presenting on his data cleaning and entity reconciliation work (and outstanding collaboration with Lori Antranikian) at the Rijeka in Flux meeting in Croatia.
July 11, 2019:  LGLC  at DH2019 in Utrecht
From archival research to TEI to linked data and more. The Lesbian and Gay Liberation project PIs had lots to learn and share at the international Digital Humanities conference.
June 27, 2019: LGLC at ALMS in Berlin
The Lesbian and Gay Liberation in Canada project had its launch at  the Archives, Libraries, Museums and Special Collections: An International LGBTIQ+ Conference. We were glad to be so well received -- what a great conference.
May 13-17, 2019: DHSITE and Lab Closure
The lab will be closed for fire alarm maintenance this week. The team will be at the DHSITE,org workshops all week -- see you there.
May 1, 2019
Dr. Jana Smith-Elford has joined the lab as a postdoctoral fellow. Welcome Jana!
April 30, 2019
Morgan Hector has graduated -- congratulations Morgan and thank you for all your work on the design and DH research in this first year of the lab
April 17, 2019
It's Arts Celebration Month! Come out to the Creator Space PRZ 302 at 2:00 to meet the lab team and to hear more about their research (and the other great DH initiatives in Arts and the Library)
March 18, 2019
Alice Defours, an intern from Lyon II, has joined us in the lab to work on TEI-to-RDF conversion. Welcome Alice!
March 14, 2019: DH Lecture
Jennfier Guiliano of IUPU delivers the last lecture in the DH Lecture Series "Indigeneity + Digital Humanities: The Complexities of Indigenous Data Cultures." Join us in Creator Space, PRZ 302 on March 14th at 2:00pm
February 11, 2019: Social Innovation Workshop
Do you have an idea that could change the world for the better, but aren't sure how to make it sustainable? Are you curious about social innovation? Join us for the Social Enterprise Fundamentals workshop with Andrew Greer from Purppl, in Perez 302. Registration: sofun-ottawa.eventbrite.ca
January 21, 2019
Lori Antranikian, Tristan Lamonica, and Paige Maskell join the lab -- welcome Paige, Tristan, and Lori!
January 5, 2019: lglc.ca goes live!
The  new lglc.ca interface, designed by Iversoft Inc, is now live. The Lesbian and Gay Liberation in Canada project is now hosted by the Ryerson University Library and Archives. There are still, of course, bugs to iron out, but thank you and congratulations to Candice, Pascale, Ewan, Nadine and all. Your hard work and careful scholarship now has new look and a secure home.
December 21, 2018: Lab closure
The lab will be closed from December 21st to January 21st. Happy new year everyone. See you then!
November 29, 2018: Wikidata 101
Join us for the DH Toolbox workshop this Thursday from 1:00 pm to 2:30 pm,Perez 302, and find out why Wikidata matters, how to visualize it, and what it can do for you.
November 8, 2018: Mapping a Global Renaissance with 53,829 Texts
Co-Directors of uCincinnati's Digital Scholarship Centre, Arlene Johnson and James Lee, will be in the lab for a week-long visit, with support from the Vice-President Research. Join us for Dr. Lee's lecture, "Mapping a Global Renaissance with 53,829 Texts," Thursday November 8th, 2:00-3:30 Espace Creatif (Perez 302) uOttawa
October 31, 2018: Wikipedia Editathon
Do you ever find errors in Wikipedia? Are there some pages that seem a bit thin that you'd like to fill out? Join us for the library's Wikipedia Editathon in MRT 143.
September 15, 2018
May Ning joins the the lab as the coordinator for the Digital Humanities Chair -- welcome May!
September 1, 2018
Chris Tanasescu joins the lab as a research associate -- welcome Chris!
Morgan Hector joins the lab as a creative data research assistant -- welcome Morgan!
August 31, 2018
Ruth Truong, ontologies and linked data research assistant, leaves for Carleton to take up an MA in English with a specialization Digital Humanities -- congratulations Ruth!
June 2018
Pascale Dangoisse joins Nadine Boulay, Candice Lipski, and Ewan Matthews, as an archival research assistant -- welcome Pascale!
May 2, 2018
The Canadian Foundation for Innovation funds the lab -- especial thanks to CFI, Arts, and the Strategic Research Initiatives office.
March 2018
Revue2.0 is funded (PI Marcello Vitali-Rosati). The project brings theorists, tool developers, aggregators, and journal editors on question of sustainable (and perhaps novel) scholarly publishing in the digital age.
Rijeka in Flux: Borders and Urban Change after World War II is funded (PI Brigitte Le Normand). The project investigates how the relocation of the border between nations has shaped the city's cultural and civic life.
Humanities Data Lab, UBCO News
July 1, 2017
A heartfelt farewell to Dr. Constance Crompton who is taking up a position at the University of Ottawa in the Department of Communications, and our best wishes to her on this new endeavour. Taking on the directorship will be Dr. Karis Shearer, who previously served as the lab's associate director.
May 17, 2017
Caitlin Voth and Rebecca Desjarlais share their research at the Digital Media in Education conference's digital media creators showcase.
March 28, 2017
Wikipedia Editathon: Have you ever wondered how to contribute to Wikipedia? Join us for workshop offered in partnership with the QCampus project in LIB111 from 1:00 to 4:00
December 12, 2016 - January 7, 2017 Lab Closure
The lab will be closed during the holiday break. See you in the new year!
September 1, 2016
After two weeks' intensive training Candice Lipski and Rebecca Desjarlais are joining Cole Mash as encoders on the Lesbian and Gay Liberation project. Welcome!
August 2016
Francisco Peña's Confluence of Religious Cultures project is awarded a SSHRC Partnership Development grant. Congratulations Francisco!
July 15, 2016
Congratulations to Raymon Sandhu on your new position at RocketChicken Interactive. Caitlin Voth will be taking on a new role, replacing Raymon as LGLC project manager.
June 20, 2016
The LGLC research assistants have returned from sharing their research at the Digital Humanities Summer Institute Colloquium at the University of Victoria. Congratulations to the whole team on a paper well received!
May 17, 2016 6:00pm
Women in Tech -- Unplugged Streaming CafeAre you interested in hearing about women's experience in tech in the Okanagan valley? Join Constance at Accelerate Okanagan's annual Women in Tech -- Unplugged panel at the Streaming Cafe, 596 Leon.
March 21, 2016
The Lesbian and Gay Liberation in Canada RAs' paper proposal has been accepted by the DHSI Colloquium at the University of Victoria in June. Congratulations all!
February 26, 2016 4:30 Start-Up Drinks FIP251
Digital Okanagan's monthly tech community meet-up, Start-up Drinks, will be held in the Humanities Data Lab. Start-Up Drinks is a tech event co-hosted by Digital Okanagan and co+Lab. It's a Friday, after-work meet-and-greet that brings together the Okanagan technology community. Start-Up Drinks is usually hosted by a different tech company every month — this is the first time it's come to campus. Join us! The event is free, but space is limited to ticket holders, so be sure to register.
This month's Start-Up Drinks has been organized by David Lacho, Shane Austin, and Constance Crompton, with special thanks to event sponsors the Faculty of Creative and Critical Studies, Community, Culture and Global Studies, and the Royal Bank of Canada.
Do you get the feeling that your computer could be doing more work for you, instead of making you do more work? Unlock the research power of your computer, save yourself hours, and free yourself from the artificial limitations set by software. Learn to clean messy text, do large-scale text analysis, back up your work, publish to the web, and visualize your text at this Software Carpentry workshop with Alex Razoumov.
Register here.
January 23, 2016
Raymon Sandhu and Constance Crompton volunteer at codecreate, a BC-wide initiative brought to UBCO by the ILC and Lighthouse Labs to teach children and youth aged 8 to 18 how to program.
January 19, 2016
Cole Mash, INKE RA, and Constance Crompton give a paper on graphing handshifts in a 16th C miscellany, "Unknown But Not Unknowable: The Network of Identified and Unidentified Hands in the Social Edition of the Devonshire Manuscript" at the New Knowledge Models:
Sustaining Partnerships to Transform Scholarly Production conference.
January 1, 2016
Caitlin Voth joins the LGLC project. Welcome Caitlin!
New positions and farewells: after nearly three years with the Lesbian and Gay Liberation in Canada project, Travis White leaves the lab. Raymon Sandhu replaces him as LGLC project manager.
December 19, 2015
The lab closes for the holiday break. See you in the new year.
December 1, 2015
The lab launches. Thank you to everyone who has made the lab possible (to our friends at UVic's Electronic Textual Cultures Lab for the best wishes!)
October 10, 2015
Seamus Riordan-Short joins the LGLC project. Welcome Seamus!
July 14, 2015
Lab construction starts
January 20, 2015
The lab is funded, thanks to support from the Canadian Foundation for Innovation, The BC Knowledge Development Fund, FCCS, and Critical Studies